Generate, Create, Destroy.
The Formax Product Line has been developed with you, the customer, in mind. Reliable, dependable, and user friendly equipment you expect and deserve.  Formax offers an expansive product line for specialty printing, print finishing, mailing, data destruction, and more. Formax systems are found in local print shops to Fortune 500 companies improving productivity and efficiency.
Formax is the industry leader in the design, manufacturing and distribution of digital print & finishing, mailing, pressure seal, and data destruction solutions. Superior products and an unparalleled level of service and sales support allow Formax dealers to provide the ideal solution to streamlining virtually all of your outgoing and incoming mail, destruction of confidential data and in-plant digital print finishing.
Digital Print & Finishing


Data Destruction Solutions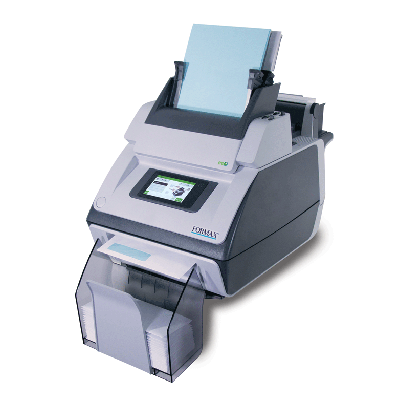 The FD 6104 inserter offers the latest technology in entry-level tabletop inserters, making it possible for any size company to enjoy the benefits of automated folding and inserting. The affordability of this inserter eliminates the need to send out tens of thousands of mail pieces in order to justify the cost of automation.
The 5" full-color touchscreen control panel features wizard-based software which guides operators through setup and operation. It provides quick access to saved jobs, right on the home screen, while bold icons indicate the status of each feeder. Users can program up to 15 jobs for instant, one-touch operation.
With two fully-automatic sheet feeders and one automatic insert/BRE feeder, it offers a range of folding and inserting capabilities. It processes documents up to 14" in length, producing up to 1,350 envelopes per hour. Electromagnetic double document detection ensures each envelope contains the correct number of documents. The energy-saving mode automatically puts the inserter into standby after one hour of being idle
With the Formax FD 6210 Special 2 automatic mail folder and inserter you can bring efficiency and ease-of-operation to your mailroom. This system combines advanced folding and inserting technology with user-friendly features and flexibility. It features two automatic sheet feeders, one special BRE business reply envelope/small insert feeder, and a full-color 7″ touch screen with graphics and guides to walk your operators through the setup and operation.
The high capacity vertical stacker holds as many as 500 finished envelopes and an eco-friendly sleep mode activates after one hour of inactivity. AutoSet™ allows for simple, one-step setup of new jobs by automatically measuring paper lengths, envelope sizes, and fold lengths for you. Plus, the programmable memory can hold up to 50 custom jobs of your choosing for quick recall. It can fold up to 5 sheets at once and offers the power and reliability of a much larger machine